Yuzuki Akaji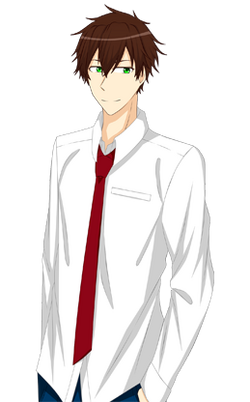 Characteristics

Age

16 years old

Sex

Male

Height

185 cm / 6'1"

Weight

70.1 kg / 155 lbs

Birth Date

August 28th

Blood Type

O type
Affiliation

School
Occupation

High school student
Yuzuki Akaji is an original character of SkyBird027, and is one of the main characters of Corpse Party -ever after-. A childhood friend and one of Hazeru's bestfriends.
Design
Yuzuki in the game is shown to have brown hair and green eyes. He wears a white shirt, the school tie, the standard blue pants and black shoes.
Personality
Yuzuki is kind and caring to those he cares about. He is especially concerned about his bestfriend, Hazeru. He gained the habit of always asking Hazeru's wellbeing and also caught the habit of calling Hazeru by the nickname, "Haru".
It is hinted that both him and Ikaru were good friends before and it is still unknown why it changed by the game's start. He tries to keep his emotions in check but if Ikaru were to push him around too much, he'll let his own frustration towards the quarrel out.
Appearances